Description
LED Light up Dog Collar Pet Night Safety Bright Flashing Adjustable Nylon Leash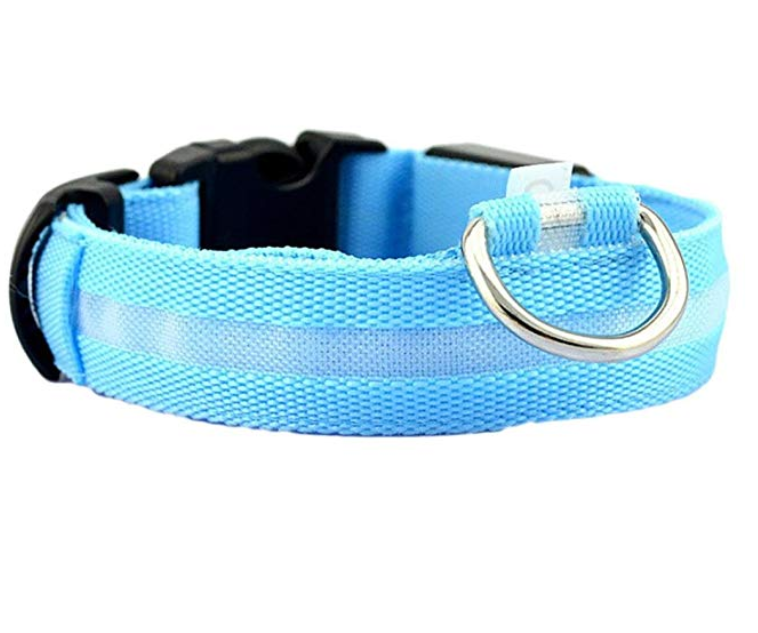 An LED Light-Up Dog Collar is the answer to every loving dog owner's problem when it comes to walking your dog at night or just simply wanting to be able to them in the dark. Keep them in sight from potentially dangerous collisions with cyclists, pedestrians and cars. Now get out there and have some fun! Take back the night. Keep yourself and your pet safe this LED Light- Light Up Dog Collar with the push of a button. You are able to see your Dog in the dark with 3 modes, durable, nylon, colorful LED Light-Up Flashing Collar 
Made of high quality nylon that is lightweight and durable.
Comfortable fit collar houses a flexible, light-transmitting polymer core that illuminates when turned on, with the push of a button.
Powered by a super-efficient and long lasting replaceable  battery ( CR2032 battery  ). Hours may vary due to different settings. 
collar glows with LED light up to couple of inches around the neck. 
It is very difficult to capture picture of the glowing collars. Colors may appear different due to monitor setting and lighting when pictures are taken. 
Led light shines through one side with a plastic strip that transport the light to the other side. 
Due to the nature of the light transporting from one side to other side, then one side could appear brighter than the other side.  As light gets dimmer from one side to other side, especially the first few inches appear brighter than the rest. 
It is normal that some colors are brighter than others. ** The entire collar does not light up ! As it states int the listing and the measurements only a quarter of the LED is bright and lighten.  only  1/4 of the length collar lights up!
3 different LED light Glow settings from- Slow Blinking, strobe, or normal glow.
Please select the colors as you desire, Warehouse does not have an option to change color.  Please do not leave a message at check out. that is why we have a drop down with different color selection. 
There is a tab on the battery that needs to be PULLED to ACTIVATE; it is there to insure battery doesn't run out during shipping. 
because they are battery operated, some  may illuminate brighter than others. Also some colors are brighter than others, for example pink is not as bright as blue and so on. 
*note: Black Dog Collar has a different design with the Strip as it is black and dark material. the LED for the black collar and leash is white (color changes as it transports through the strip and may appear yellowish) 
Material: Nylon
Quantity: 1Pcs per order
FITS NECK SIZES:
S:     14" - 17"
M     16" - 19"  
L:     18" - 21" 
XL:   20" - 23"
Ship to US only. Also INCLUDES: PO Box, APO/FPO, Alaska, Hawaii, Guam, Puerto Rico, Virgin Island and US Territories.
Ship to eBay registered address, buyer please contact us via eBay message to notify any changed address. Seller are not responsible for any wrong or undeliverable address.
Shipping Method will be UPS ground, USPS First Class Mail or USPS Priority Mail. You can choose when checkout.
Please leave all 5 stars positive feedback when you received the item and you are satisfied with the products.
If you are not happy with the transaction, could you please kindly contact us via eBay. We will try our best to solve problems for you. We are always stand-by to help for any questions or concerns.
Positive feedback is automatically left for you after you left to us positive feedback.
FAQ:General
​
(a) Do you have a showroom?
Part of the reason that we are able to offer such great prices on our products is that we don't have any showrooms or sales people.We encourage you to check out the hundreds of products on our website to get a sense of the quality of our furniture. In addition, you might like to know that we back all of our products with a 30-day no questions asked return policy. If for any reason you don't love your new furniture simply let us know within 30 days of receiving it.
​
(b) What payment methods do you accept?
Currently, we accept Paypal and some credit cards (Visa,Mastercard). More payment methods will be applied in the near future.
​
(c) Where are your products manufactured?
We look for the finest craftsmen for each of our products, and as a result, we work with manufacturers all over the world. We currently work with manufacturers in Vietnam, China, Indonesia and India.​
FAQ: Delivery Service
​
(a) Do you ship internationally?
Currently, we can only provide shipping to US. For further information, please e-mail us at support@littletreehome.com with details of selected product, purchasing quantity and shipping location for quotation.  
(b)  How much do you charge for shipping?
Basic shipping to nearly everywhere in the continental U.S is FREE, no matter how large your order is. You can also choose to upgrade your shipping to in-room delivery, or even assembly service for an additional fee. If you live in a particularly remote area there may be additional delivery fees, but we will always inform you before these are charged.
​​
(c) How will my furniture ship?
In order to ensure that your new furniture arrives in pristine condition we generally ship using carriers that are specialized in shipping furniture. If you place an order for a smaller item it may ship using a standard courier service.
(d) Does the delivery prices includes installation service?
The delivery prices does not include installation service. If you need it, installation service fees may apply depending on the number of items and the complexity of the installation procedure, additional fees .
​
(e) Can I track my shipment?
Once you have placed your order you will get an estimated delivery date in your order confirmation email. When your order leaves our warehouse we will send you another email to let you know. You are also able to log in to our website to see any updates to your order status..
​
(f) Will I get a call when the furniture is going to be delivered?
In most cases, once your order arrives in your local area our delivery partner will contact you to arrange a day and time for delivery.Delivery appointment availability varies depending on the local delivery partner in your area. Generally this will be between 9am and 5pm, Monday to Friday, but the specific partner in your area may be able to accommodate deliveries outside this time.
(g) What happens if I miss my delivery appointment?
In the event that you miss your delivery appointment our local delivery partner will be in touch to schedule another appointment. Note that some of our delivery partners may charge a re-delivery fee in this instance.
(h) I ordered multiple items but they did not arrive together, what's going on?
Don't panic! It is likely that your items have shipped from different warehouses and the remaining items will arrive shortly. Please don't hesitate to get in touch if your order does not arrive within its delivery estimate and we will work with our carriers to get your order to you right away.
(i) My estimated delivery window has passed and my order hasn't yet arrived - what should I do?
This will have been flagged in our system, and we will be doing our best to get you your order as soon as possible. If you want to enquire about progress please get in touch and we will be happy to let you know where your order is.
FAQ: Orders
​
(a) Where is my order?
You can track your order through 'My Account'. In Order History, you'll find an estimated delivery date which is the most up to date information we have for you.
​
(b) Can I change my delivery address?
if you would like to change your delivery address, please contact us immediately. As we do not transfer stocks/orders between stores hence if your order have already arrived in your selected location and requires a transfer, additional surcharge applies.
​
(c) Can I add item to my order?
Yes you can however as the standard production lead time varies depending on the items; delivery date and time will be scheduled base on the last completed items. If you would like to organize for split-delivery service, please contact us for more information.
​
(d) Can I cancel my order?
If the order has not been processed, we can honor the request and a full refund will be issued.
​
FAQ: Exchange and Return
​
(a) Can I return my order?
If for any reason you don't love your new furniture you can return it within the first 30-days, no questions asked. Provided you return the furniture in as-new condition and in the original packaging we will refund your purchase, less the cost of shipping and return shipping. Read more about our 30-day satisfaction guarantee.
​
(b) An Item I just picked up is missing a package, what should I do?
In the unlikely event that the item you self-pickup is missing a package, please contact us and our team will further assist you.
(c)What happens if I no longer have the packaging for the item?
We strongly encourage you to keep your packaging for 30 days in case you decide you want to return it.
You can still return your item, however we charge a reboxing fee to ensure that we are able to package the item appropriately to survive return shipping.This fee varies based on the size of the item and packaging required.​
(d) What should I do if the products are defective?
Our products are designed to last, and we stand by their quality. All of our product comes with a one year warranty.
If you do have problems with your product please take photos or video that demonstrate the issue and describe the issue in as much detail as possible. Contact us right away work with you to determine the appropriate next steps.
Payment & Security
Your payment information is processed securely. We do not store credit card details nor have access to your credit card information.