Description
【Energy Saving】The solar garden lights are powered by the sun. They automatically charge during the day, over a period of 6-8 hours. Then, they turn on automatically at night, providing you with 8-10 hours of lighting.

【Perfect Outdoor Decoration】The LED pathway lights here have a unique, house design that offers a great amount of style for your landscape. Great for your garden, yard, flower bed, terrace, walkway, driveway, or anywhere else, they are sure to light up your space.

【IP44 Waterproof】You need outdoor solar lights that are high quality and built to last and that's exactly what these are. They're made with high-resistance ABS plastic and they're fully weather and impact-resistant. They also have an IP44 waterproof rating that makes sure they're safe to use even in severe weather, on rainy days or even in the snow.

【Easy to Install】You don't need wiring to get these lights installed because they're completely wireless. These outdoor waterproof solar garden lights can be installed in just a couple steps and be ready to light up the night in no time.

【Perfect Service】With these outdoor solar landscape lights you're going to not only have your expectations met but exceeded. If not, just contact us and we'll take care of whatever you need, right away.
Specification
Material: Plastic
Light Color: Cold

Battery:1.2V/1PC 100mAh AAA Ni-MH rechargeable battery (Pre-installed)
Solar panel: 2V 26ma
Working time: 6-8 hours after fully charged
Size:3.35 * 3.35 * 15 ''/8.5 * 8.5 * 38cm
Packing way:12 x solar LED path lights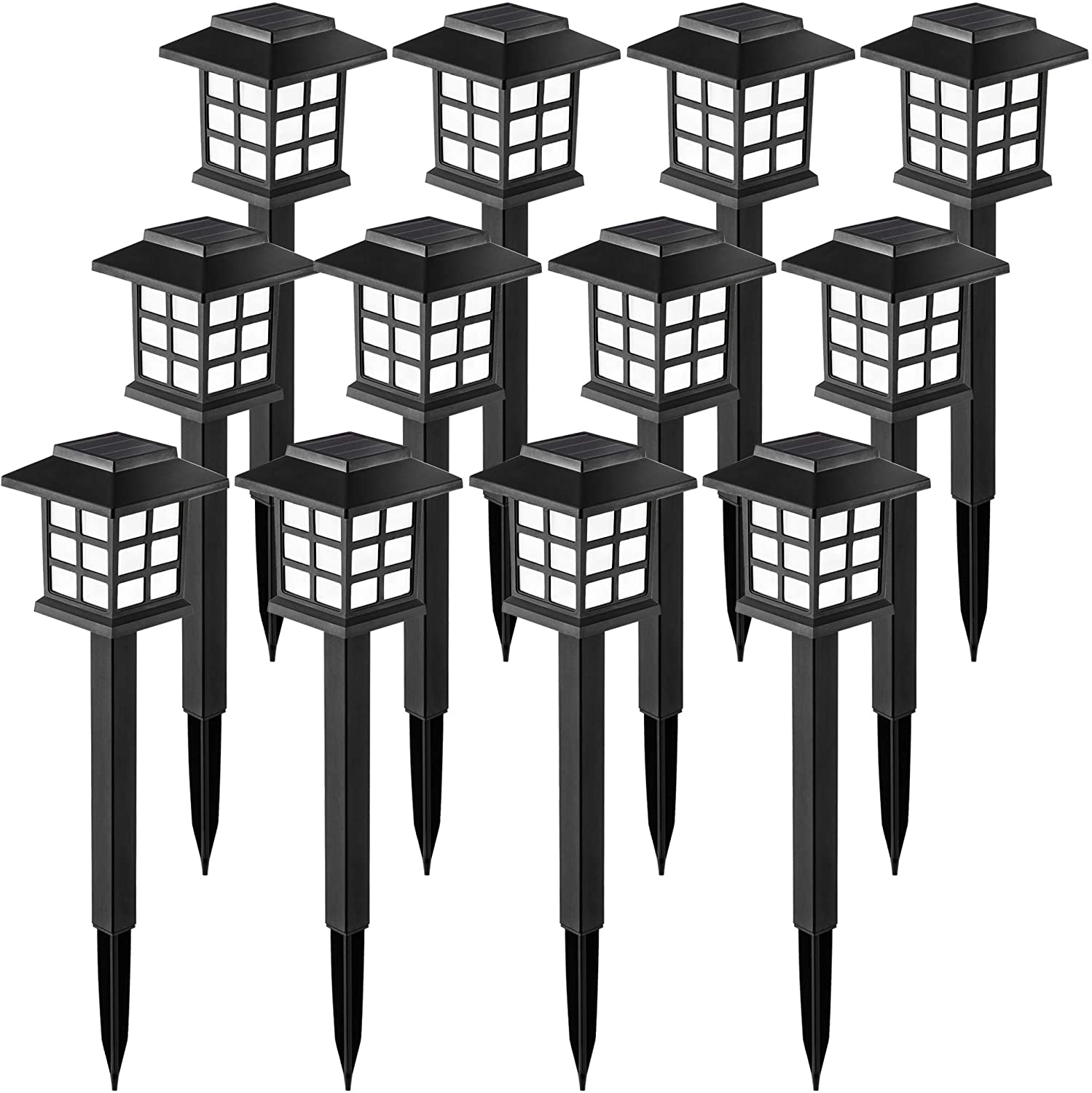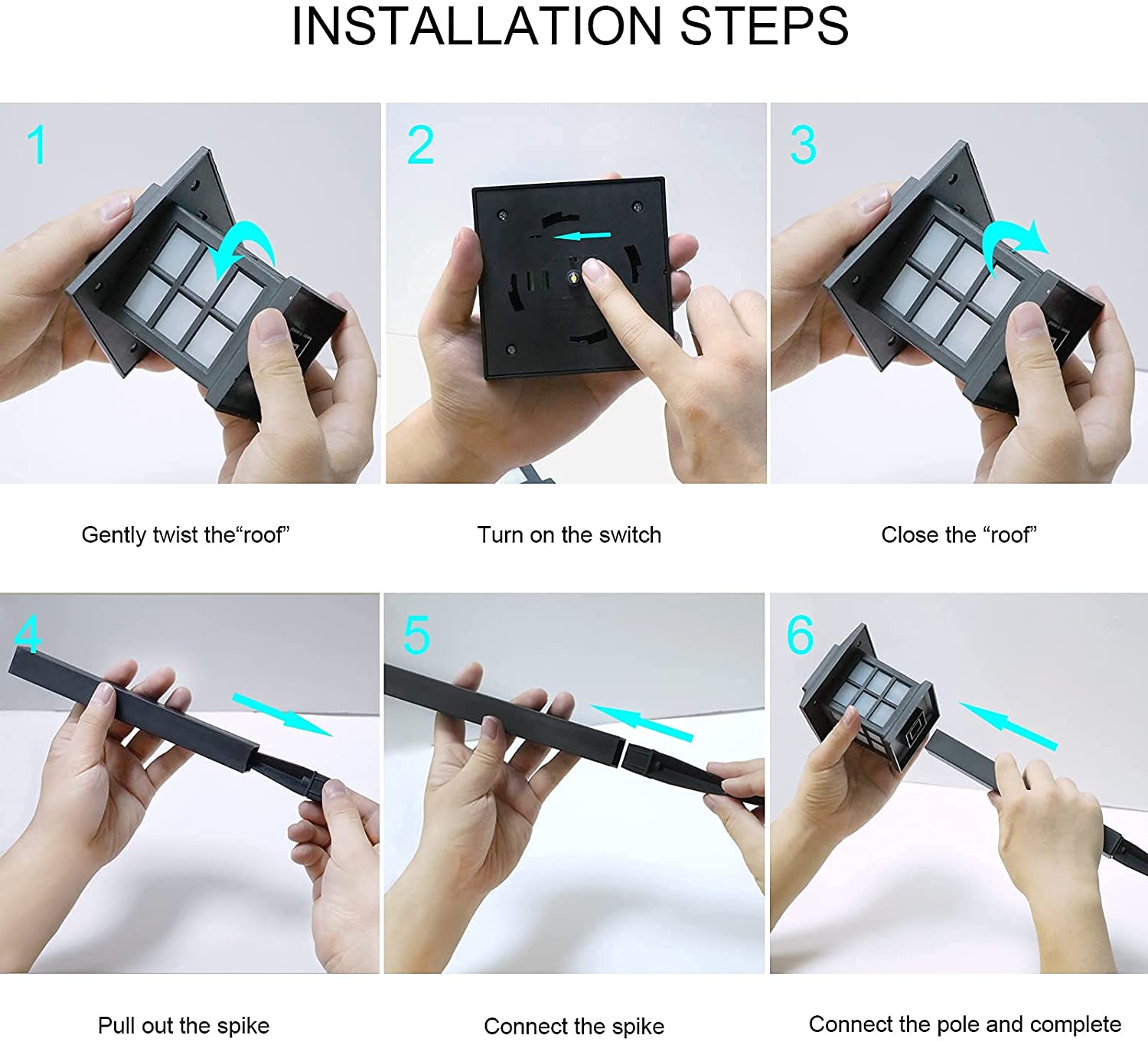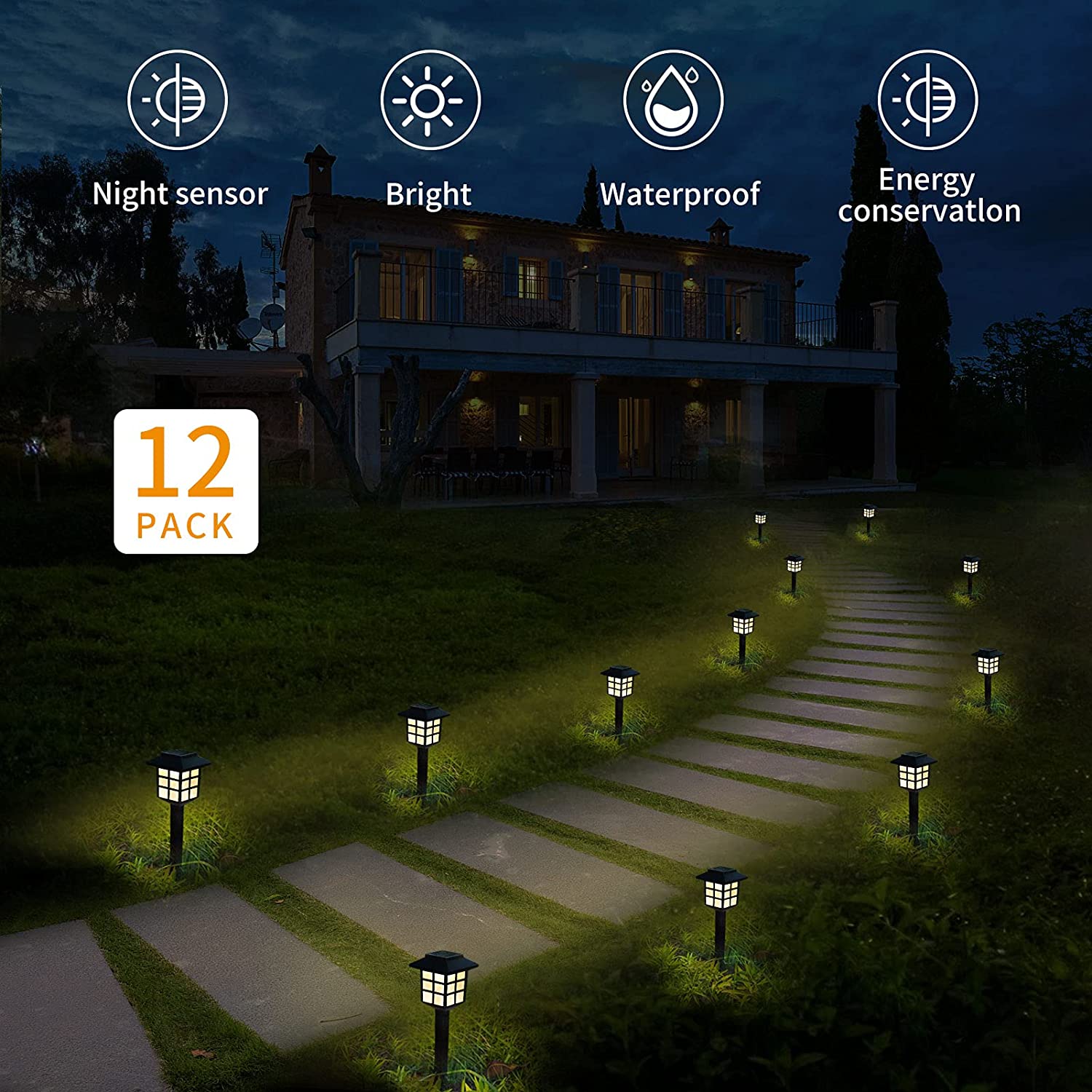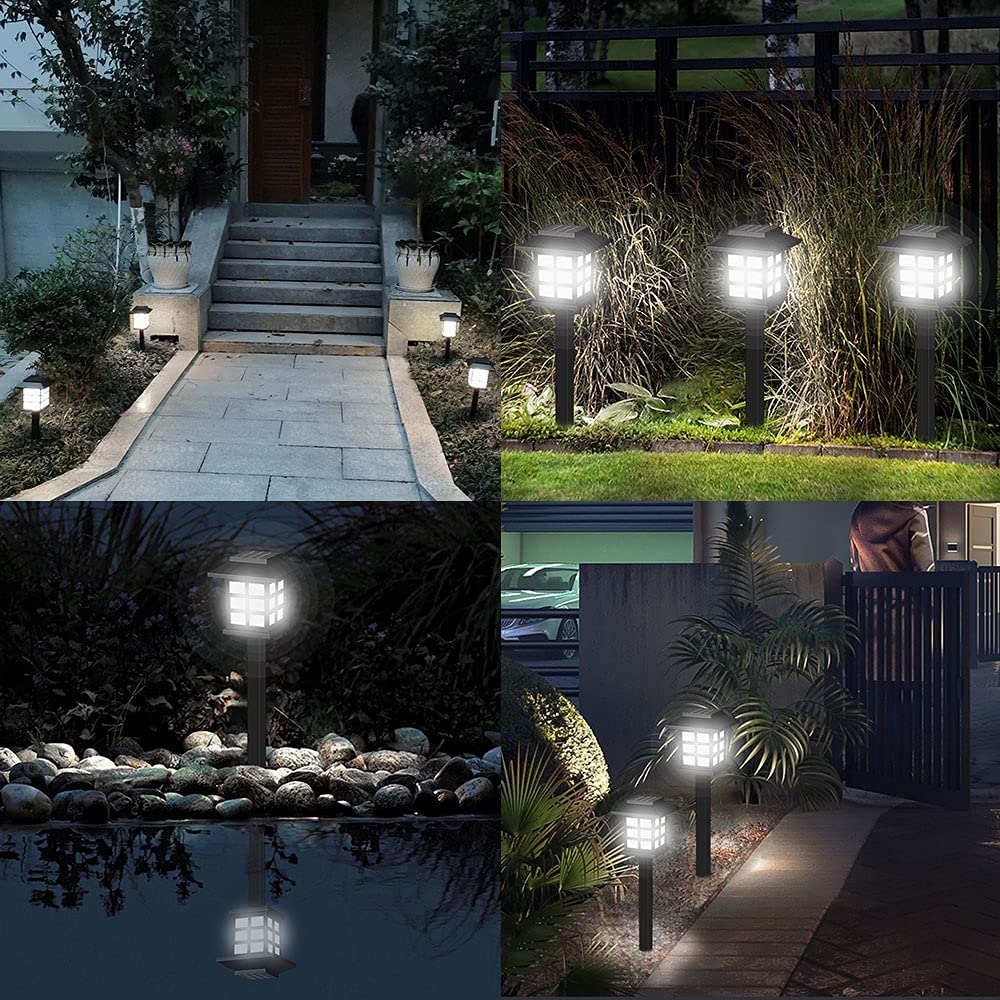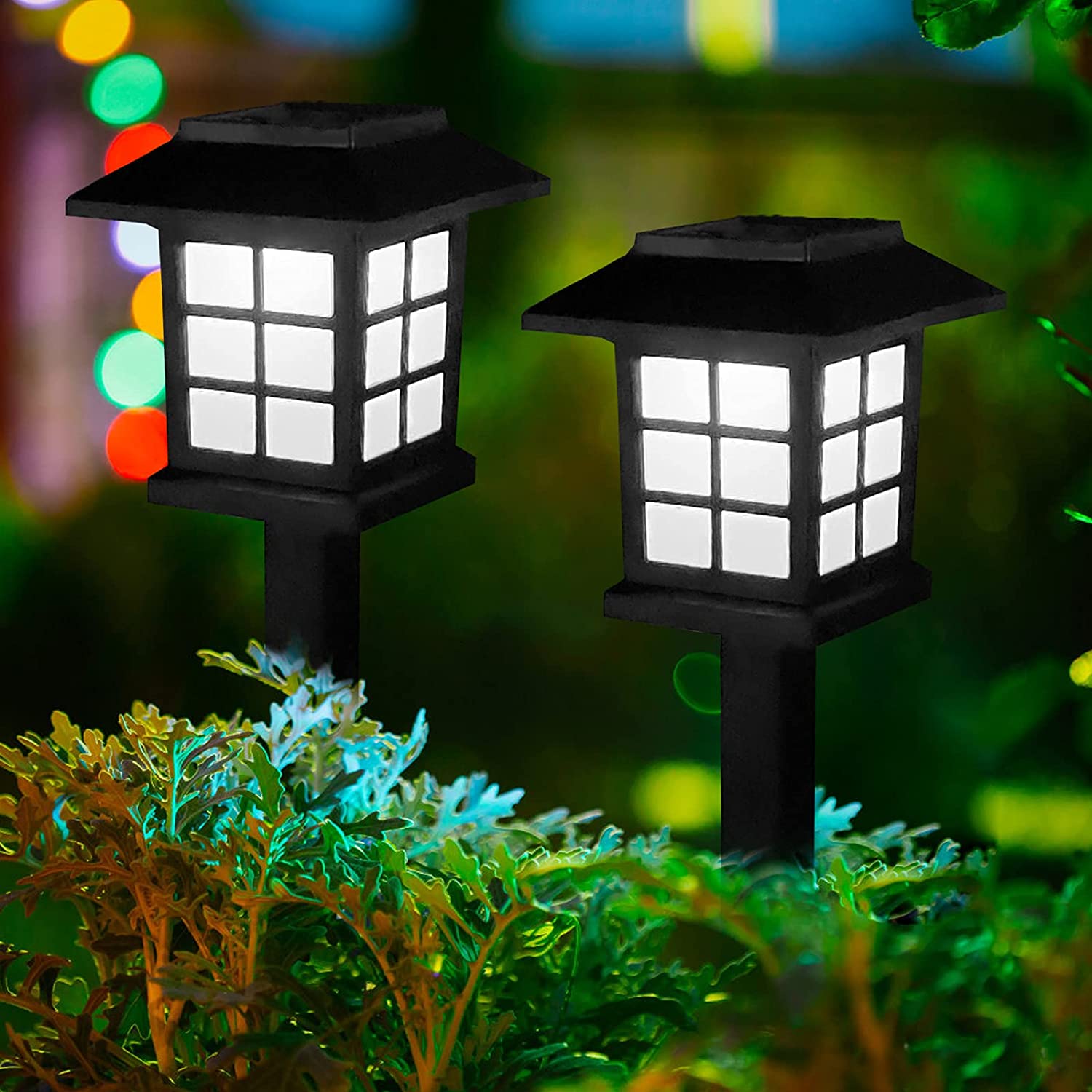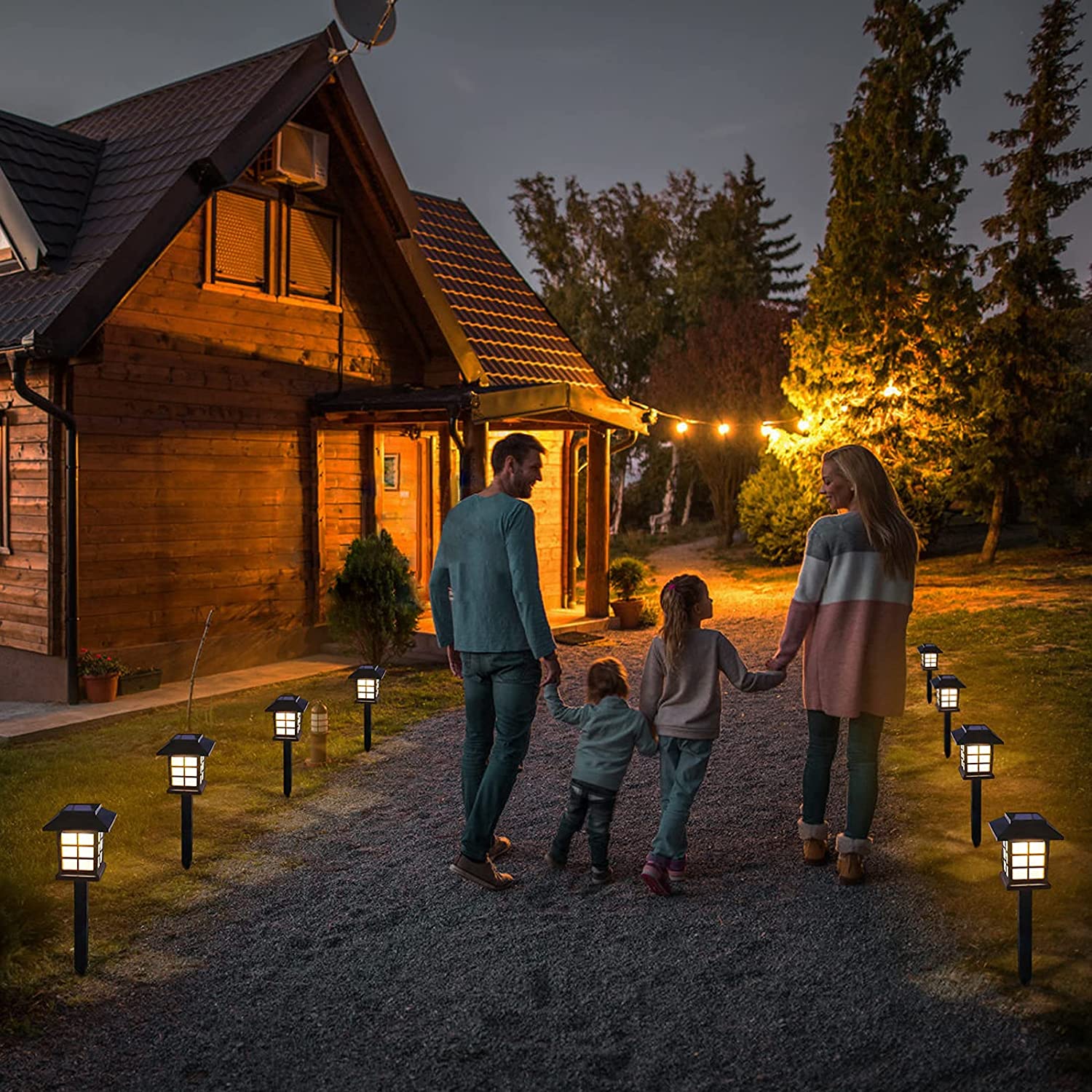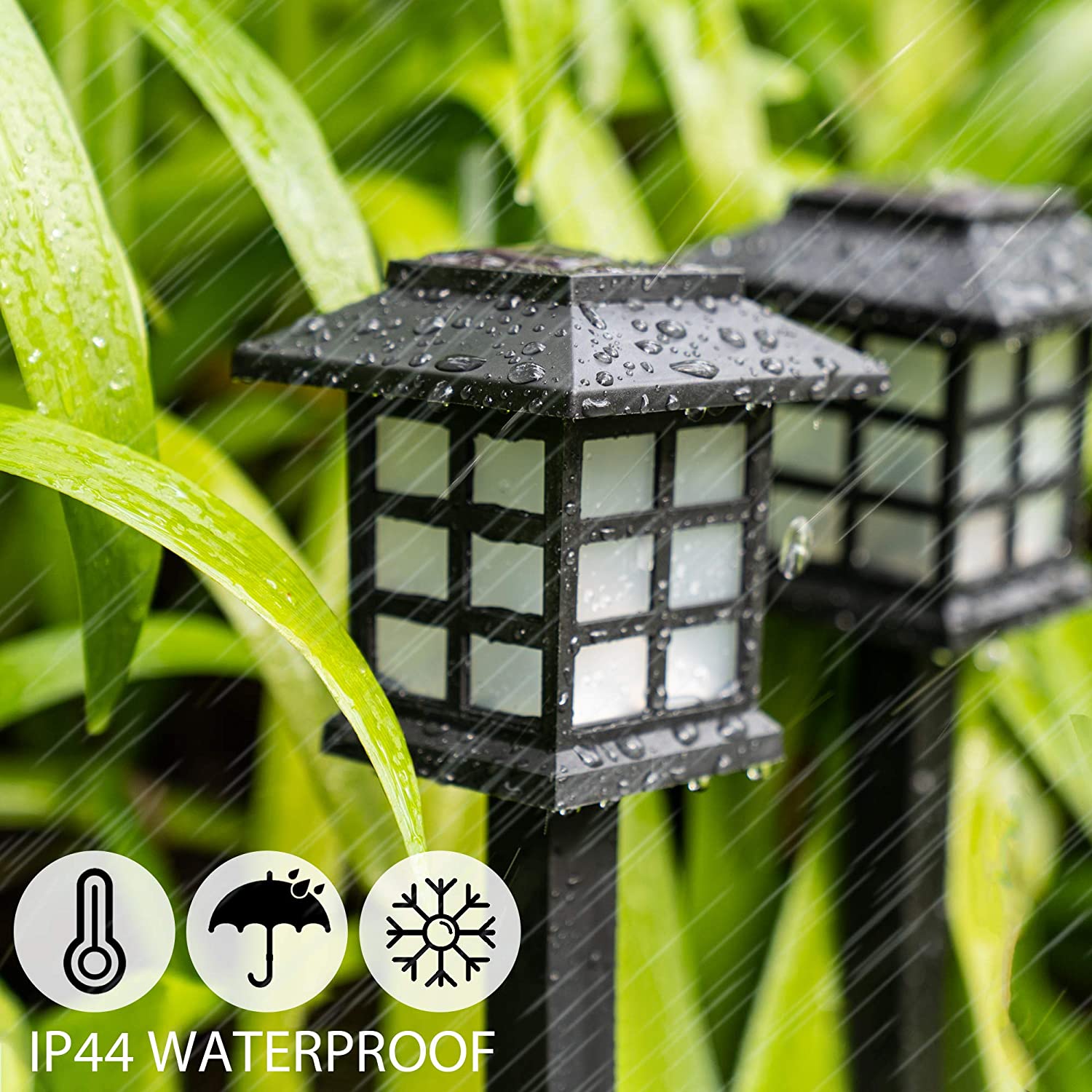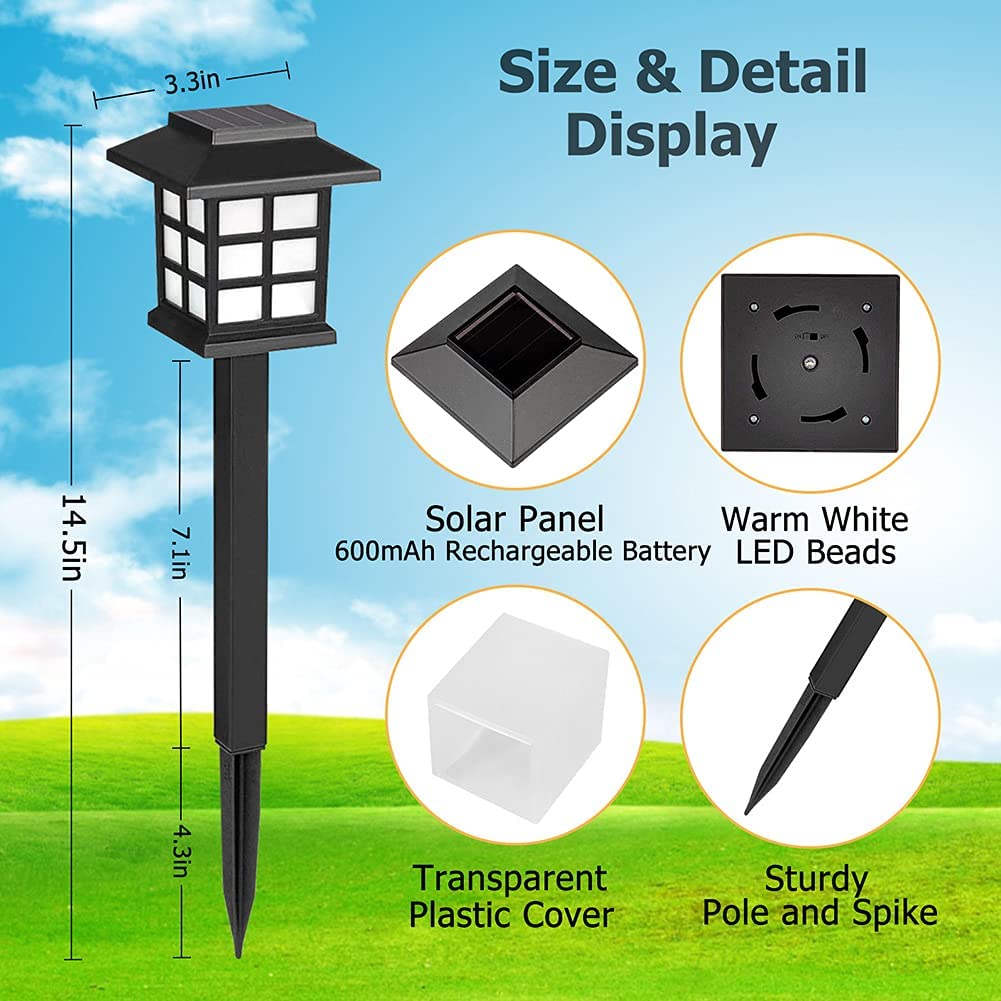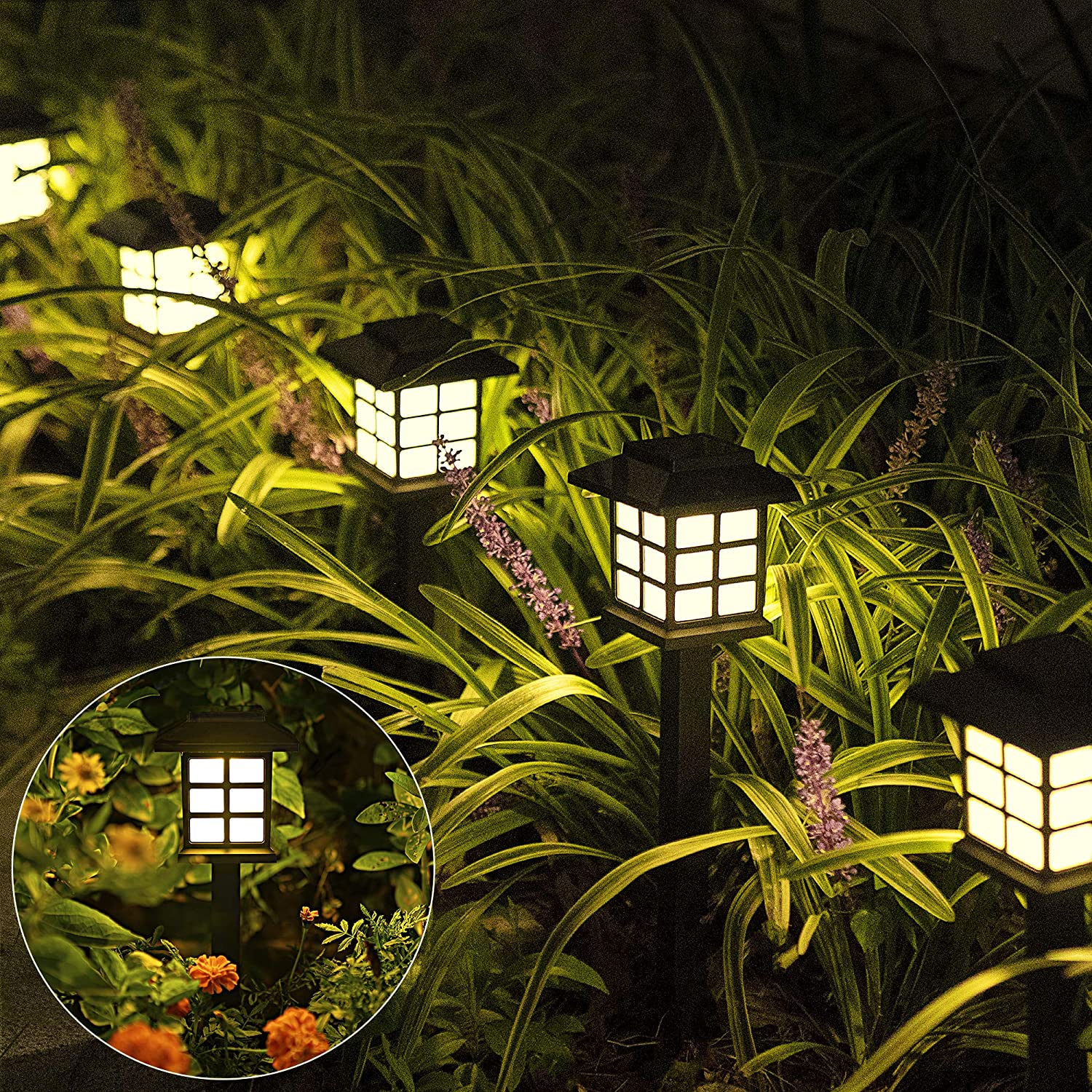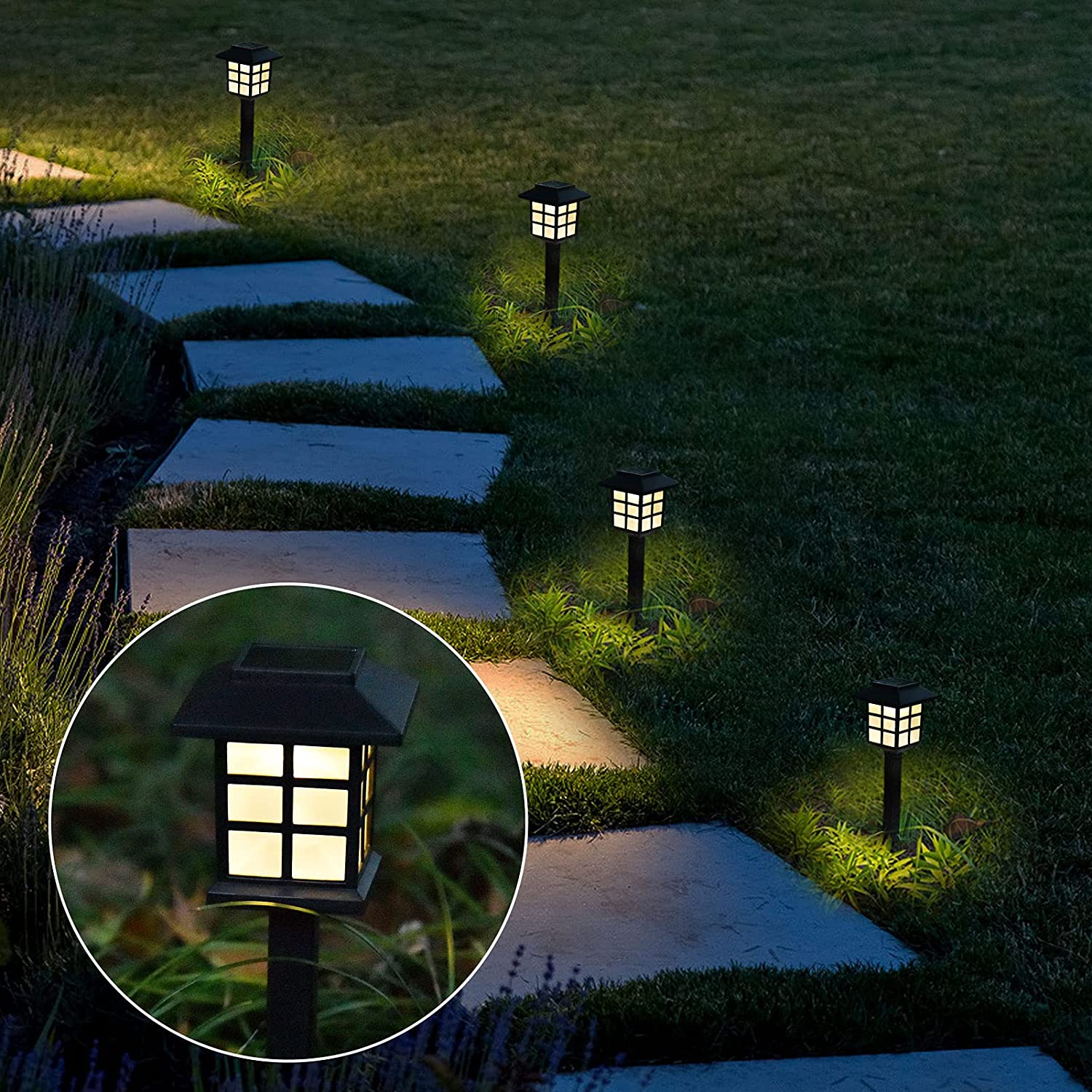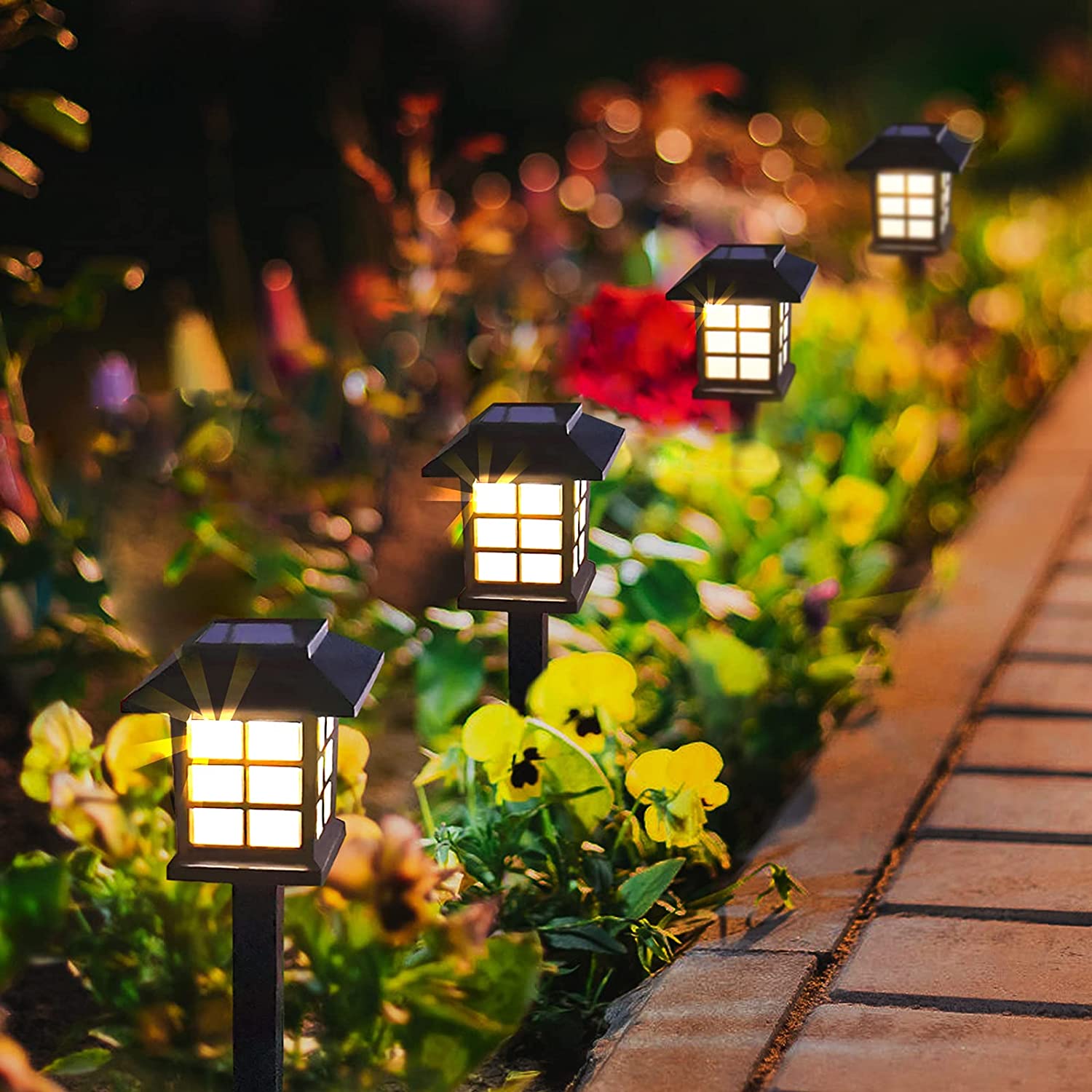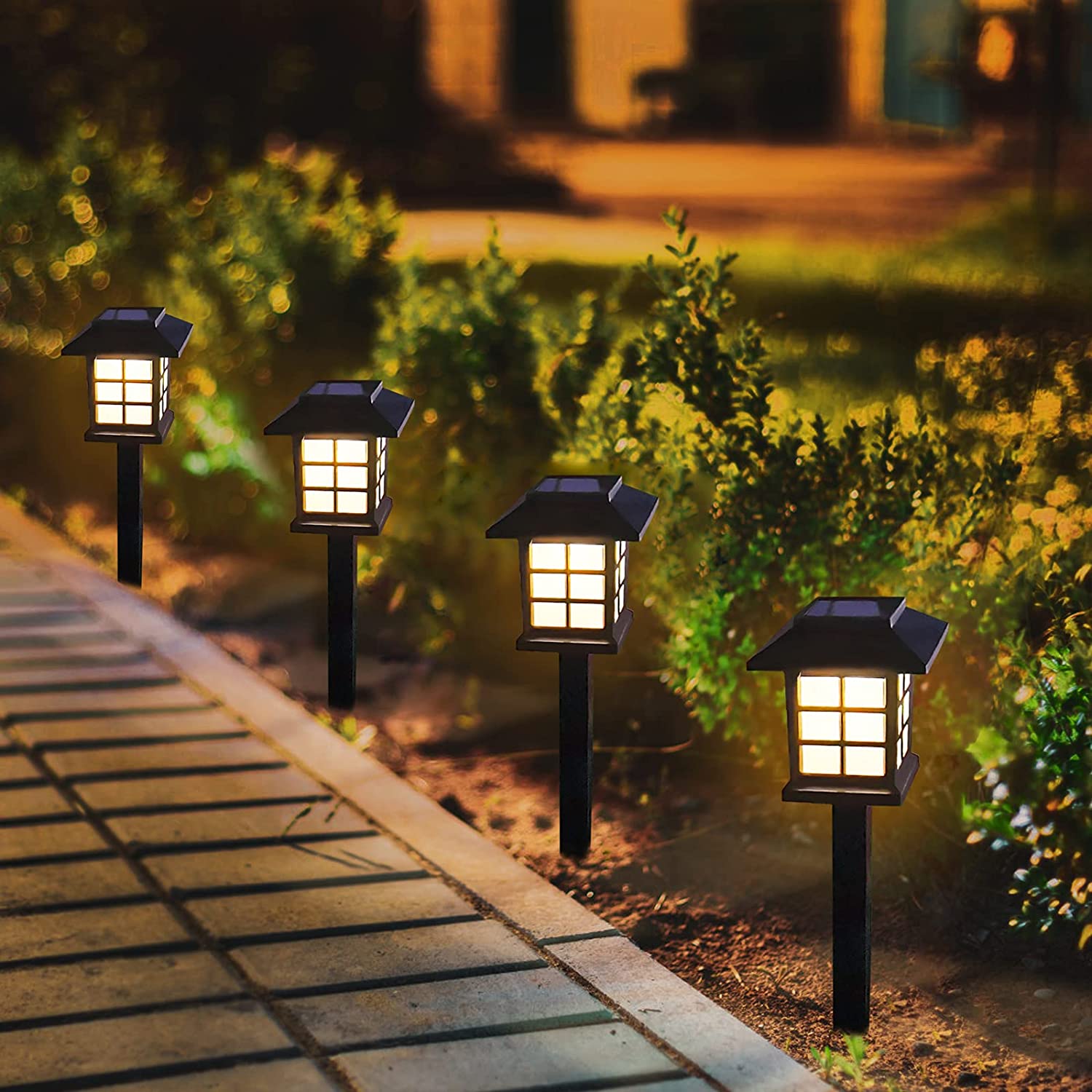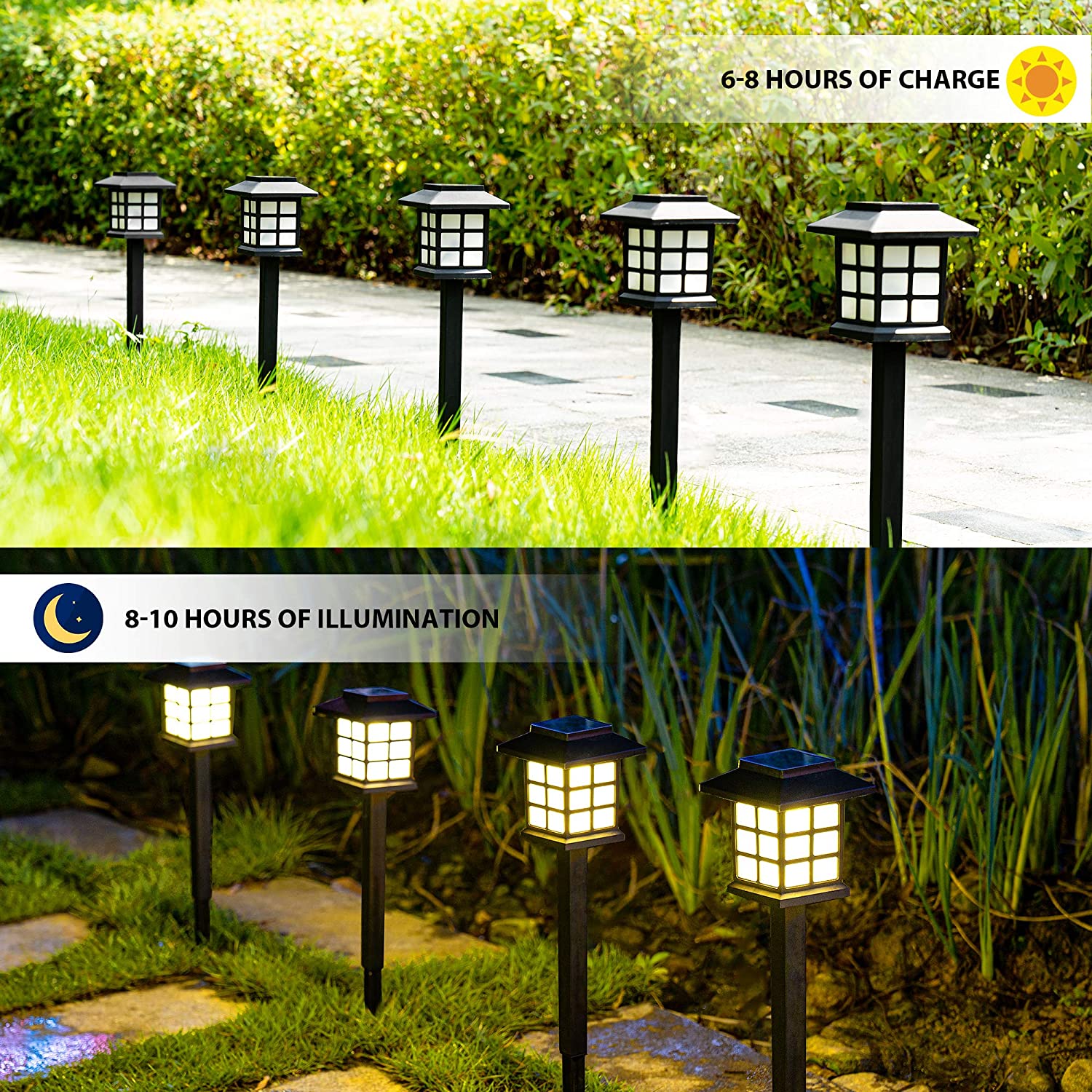 FAQ:General
​
(a) Do you have a showroom?
Part of the reason that we are able to offer such great prices on our products is that we don't have any showrooms or sales people.We encourage you to check out the hundreds of products on our website to get a sense of the quality of our furniture. In addition, you might like to know that we back all of our products with a 30-day no questions asked return policy. If for any reason you don't love your new furniture simply let us know within 30 days of receiving it.
​
(b) What payment methods do you accept?
Currently, we accept Paypal and some credit cards (Visa,Mastercard). More payment methods will be applied in the near future.
​
(c) Where are your products manufactured?
We look for the finest craftsmen for each of our products, and as a result, we work with manufacturers all over the world. We currently work with manufacturers in Vietnam, China, Indonesia and India.​
FAQ: Delivery Service
​
(a) Do you ship internationally?
Currently, we can only provide shipping to US. For further information, please e-mail us at support@littletreehome.com with details of selected product, purchasing quantity and shipping location for quotation.  
(b)  How much do you charge for shipping?
Basic shipping to nearly everywhere in the continental U.S is FREE, no matter how large your order is. You can also choose to upgrade your shipping to in-room delivery, or even assembly service for an additional fee. If you live in a particularly remote area there may be additional delivery fees, but we will always inform you before these are charged.
​​
(c) How will my furniture ship?
In order to ensure that your new furniture arrives in pristine condition we generally ship using carriers that are specialized in shipping furniture. If you place an order for a smaller item it may ship using a standard courier service.
(d) Does the delivery prices includes installation service?
The delivery prices does not include installation service. If you need it, installation service fees may apply depending on the number of items and the complexity of the installation procedure, additional fees .
​
(e) Can I track my shipment?
Once you have placed your order you will get an estimated delivery date in your order confirmation email. When your order leaves our warehouse we will send you another email to let you know. You are also able to log in to our website to see any updates to your order status..
​
(f) Will I get a call when the furniture is going to be delivered?
In most cases, once your order arrives in your local area our delivery partner will contact you to arrange a day and time for delivery.Delivery appointment availability varies depending on the local delivery partner in your area. Generally this will be between 9am and 5pm, Monday to Friday, but the specific partner in your area may be able to accommodate deliveries outside this time.
(g) What happens if I miss my delivery appointment?
In the event that you miss your delivery appointment our local delivery partner will be in touch to schedule another appointment. Note that some of our delivery partners may charge a re-delivery fee in this instance.
(h) I ordered multiple items but they did not arrive together, what's going on?
Don't panic! It is likely that your items have shipped from different warehouses and the remaining items will arrive shortly. Please don't hesitate to get in touch if your order does not arrive within its delivery estimate and we will work with our carriers to get your order to you right away.
(i) My estimated delivery window has passed and my order hasn't yet arrived - what should I do?
This will have been flagged in our system, and we will be doing our best to get you your order as soon as possible. If you want to enquire about progress please get in touch and we will be happy to let you know where your order is.
FAQ: Orders
​
(a) Where is my order?
You can track your order through 'My Account'. In Order History, you'll find an estimated delivery date which is the most up to date information we have for you.
​
(b) Can I change my delivery address?
if you would like to change your delivery address, please contact us immediately. As we do not transfer stocks/orders between stores hence if your order have already arrived in your selected location and requires a transfer, additional surcharge applies.
​
(c) Can I add item to my order?
Yes you can however as the standard production lead time varies depending on the items; delivery date and time will be scheduled base on the last completed items. If you would like to organize for split-delivery service, please contact us for more information.
​
(d) Can I cancel my order?
If the order has not been processed, we can honor the request and a full refund will be issued.
​
FAQ: Exchange and Return
​
(a) Can I return my order?
If for any reason you don't love your new furniture you can return it within the first 30-days, no questions asked. Provided you return the furniture in as-new condition and in the original packaging we will refund your purchase, less the cost of shipping and return shipping. Read more about our 30-day satisfaction guarantee.
​
(b) An Item I just picked up is missing a package, what should I do?
In the unlikely event that the item you self-pickup is missing a package, please contact us and our team will further assist you.
(c)What happens if I no longer have the packaging for the item?
We strongly encourage you to keep your packaging for 30 days in case you decide you want to return it.
You can still return your item, however we charge a reboxing fee to ensure that we are able to package the item appropriately to survive return shipping.This fee varies based on the size of the item and packaging required.​
(d) What should I do if the products are defective?
Our products are designed to last, and we stand by their quality. All of our product comes with a one year warranty.
If you do have problems with your product please take photos or video that demonstrate the issue and describe the issue in as much detail as possible. Contact us right away work with you to determine the appropriate next steps.
Payment & Security
Your payment information is processed securely. We do not store credit card details nor have access to your credit card information.